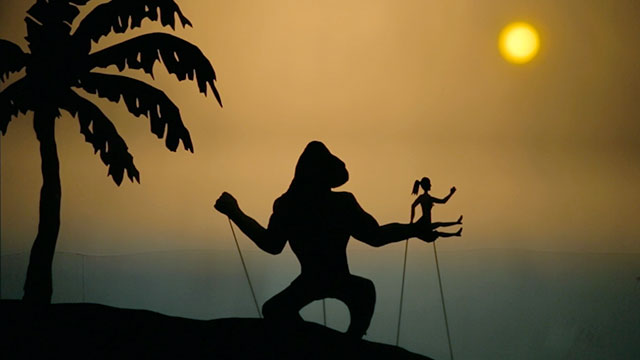 MaiTé, het meisje en de vogel (the girl and the bird)
Bruno Vansina- saxophone, flute, keys
Pierre Vervloesem - guitar
Frank Van Eycken- vibraphone, marimba
Katrien Vandergooten - shadow play
Isabelle De Keyser - shadow play


Dimitri Duquennoy- script
Bruno Vansina - script and decor
"In den beginne was er niets. Donker. En aan de horizon kwam een klein lichtje. En de dingen werden duidelijker. En de bomen groeiden. En de dieren kregen lange sierlijke schaduwen in het warme licht van de zon. En Maité (het meisje) stond op en ontdekte de palmbomen op Hawaii en de muziek van Martin Denny."

Een absurd, darwinistisch scheppingsverhaal zonder woorden en met live muziek. De levenswandel van Maité, waarbij Godzilla, de giftige appel van sneeuwwitje, de eerste man op de maan en een gebraden kip, een rol spelen.

Drie muzikanten en twee spelers creëren een filmisch verhaal in de stijl zoals kinderen kunnen spelen. Onbevangen en improviserend met elk attribuut, figuur of gedachte die hun pad kruist. Begeleidden de muzikanten het schimmenspel of dirigeren de schaduwen de muziek? Hoe je het ook bekijkt, klanken en vormen bewegen samen in Maité's exotische dans.
"In the beginning there was nothing. Dark. And on the horizon came a little light. And things were discussed. And the trees grow. And the animals took on long graceful shadows in the warm light of the sun. And Maité (the girl) got up and discovered the palm trees in Hawaii and the music of Martin Denny."

An absurd, Darwinian creation story without words and with live music. Maité's walk in life, in which Godzilla, Snow White's poisonous apple, the first man on the moon and a roast chicken, play a role.

Three musicians and two players create a cinematic story in the style of children's play. Uninhibited and improvising with every attribute, thought figure that crosses their path. Do the musicians accompany the shadow play or do the shadows conduct the music? No matter how you move assumption, sounds and forms together in Maité's exotic dance.